This is a Sponsored post written by me on behalf of Scotts® for SocialSpark. All opinions are 100% mine.
During our LA vacation a few months ago, we took advantage of visiting Beverly Hills. We took the 2 hour Celebrity Tour and it was really fun because my wife is happy. She was excited seeing many celebrity homes. After the experienced, a few things that caught our attention, first – most of the celebrity homes are behind the bushes and their lawn are huge and nice. Their grasses look healthy and alive. I cannot imagine how much they pay just to maintain their lawn. We'll they make all kinds of money so paying extra for gardeners aren't a problem for them. Just by looking at those grasses (photo above owned by one of the Hollywood Celebrity) confirms me that they've put some kind of a fertilizer. Who knows, they probably use one of the Scotts® Snap® Spreader System if not similar to it. This kind of equipment is perfect for a lawn beautification because it's known for its no mess, no guess spreader system. By the way, if you want to get some promotional products from Scotts Snaps Spreader System and participate on the games that they will be hosting, I encourage you to hit the "like" button of the Snap perks on Facebook today.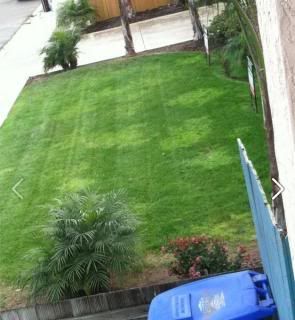 Well, our little lawn is no way can be compared from the first photo because ours is not that good looking. However, we would like to have a nice lawn and happy grass though.